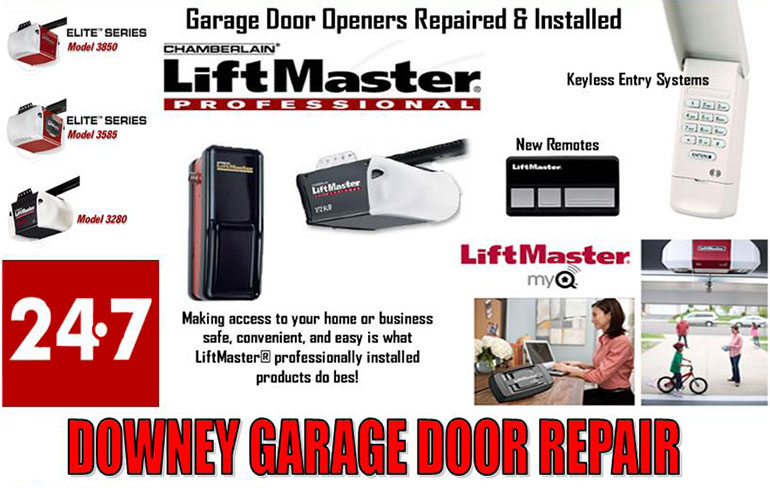 office 562-506-1373 cell 323-270-5387
bestgaragedoor.com
Welcome to Downey garage door repair we are the hands-down authority on garage door installation and repair for over 26 years. We are A Genie garage door dealer, Liftmaster garage door opener dealer, Chamberlain dealer, crusader 202ss dealer for the Downey area. Proudly serving the greater Downey, CA. 90241 area. We service and repair all brands, makes and models of garage doors, garage door springs, garage door openers, including Chamberlain, Genie, Automatic Doorman, Stanley, Blue Max, Crusader, Chief, Suiox, 202ss, Moore O Matic, Vemco, Ambassador Lynx, Wayne Dalton, Clopay, Martin, CHI, Overhead Door, Windsor, Tavart, Rankin.
We sell new car remotes, transmitter, trollys, logic boards, wireles key pads, wheels, hings, cables, Liftmaster openers, chain drive, screw drive, belt drive. We also sell garage door hardware and springs from Holmes E900, 1000, R1, R2, 1100, LCJ7, lcj8, lcj, ELCJ, elcj7, elcj8. If you have any of these.
As a Genie garage door dealer we repair all models of Genie garage door openers. We repair Genie openers as long as the manufacturer keeps the parts available. GS980, 9800, 880, 8800, Genie PRO, 82, 98, 88, 90, Professional, 83, 93, 88S, 98, CM, Genie Accelerator, Genie Stealth. We also replace broken garage door springs, sectional garage door springs, torsion springs Holmes springs, King Hardware, American hardware and springs, Tavart, rankin, Apex.
We give all of our attention to any large or small garage door and gate project with simple home garage door repair, no project is too big or small it gets our full attention. We are dedicated to the point of everyday success, and we thank our clients for recognizing our hard work with their referrals and repeat business over the last 26 years.
Our goal is to continue to set the industry standard for quality of craftsmanship and repair service, and that's why we pledge to complete every job on time and at the price quoted. We are fully committed to your complete satisfaction.
So whether you're looking for garage door installation, repair or service, we have the knowledge and expertise to provide timely, affordable and professional service 7 days a week.
To receive a free phone quote, on a new garage door, new garage door opener or new garage door springs give us a call today, and let us add you to our long list of success stories.
Please note we do not sell parts over the shop counter in Downey or out of my home. If you need garage door opener parts call Joe Lucey at 562-597-4661 In Long Beach he is a retire garage doorman and sells parts out of his home. All of our repair work is performed at you're home. We do not take garage door openers into the shop for repairs all our repairs are completed at you're home. We give free phone quotes if you need a garage door repair, new garage door spring, one piece or torsion or a estimate on a new garage door. If you need a new garage door opener Liftmaster, Chamberlain or Genie we have them on sale. Give us a call we can quote you prices on the phone.
Garage Door Repair can be dangerous if you don't know what you are doing. There are extremely powerful springs that counter balance the weight of the garage door. Steel garage doors for a two car garage weight about 240lb on average. Wood garage doors weigh about 275lb on up to about 450lb.
Garage door springs are connected through a torsion bar to cables. If the cables should ever break and you're hands or face are near those cables that broken cable for that spilt second can be like a flying razor blade. Most garage door repair should be performed by an expert only. If you're repairing a garage door opener always be careful of any moving parts your fingers can get caught in. Also be aware that there is 110 volts of electricity under the cover of the garage door opener so be careful what you touch. If you need garage door repair in Downey, Norwalk, Cerritos, Whittier, Pico Rivera, Bellflower, Lakewood, Long Beach, Seal Beach, Rossmoor, Los Alamitos, Paramount.
Garage Door Spring Repair New Torsion Sectional springs Downey
Never attempt replacing a garage door spring or repair unless you are experienced. This can be dangerous and requires special equipment. If you aren't convinced and want to do it yourself you should think again and call GARAGE DOOR SPRING REPAIR in Downey, Ca. A garage spring when breaking is loud. If you hear a loud bang when opening or closing the door, its probably a BROKEN GARAGE DOOR SPRING. If the opener is straining to open the door, it may be a BROKEN SPRING. If the door cocks to one side when you try to open it, it may be a BROKEN DOOR SPRING.
Even if your garage door opens, placing great strain on the garage door opener and you may damage your opener. Most garage door spring last between 6 to 12 years on average. Sometimes garage door springs can last up to 30 years. The more often you use your garage door the less often garage door springs normally break. People that use their garages primarily for storage and open their garage doors once a month normally will have springs break every 2 to 4 years. The average two car garage door is opened 6 to 10 times per day. Garage doors, garage door openers are made to be used. We carry the largest selection of Torsion springs and one piece garage door springs such as Holmes p7x28, 5x28, 3x28 and also SL7x28 garage door springs on our trucks compare to any other garage door company. Call now for fast and professional service in Downey, Norwalk, Cerritos, Whittier, Pico Rivera, Bellflower, Lakewood, Long Beach, Seal Beach, Rossmoor, Los Alamitos, Paramount.
Choose us if you live in or around Downey, CA. 90241?
office 562-506-1373 cell 323-270-5387
Free Phone Estimates On New Installations Or Repairs
26 Years Experience
Family Owned & Operated
24 Hour Repair Service Available
Competitive Garage Door Prices
Southbay Door Association Member
Best Garage Door Association Member
Noted Excellent Customer Service
Garage door repair services around Downey, CA. 90241
Garage Door Repair | New Garage Doors | Garage Door Springs | Garage Door Openers | Wood Garage Doors | Raised Panel Steel Garage Doors | Sectional Steel Garage Doors | Genie Garage Door Opener | Liftmaster Garage Door Opener | New Garage Door Opener | Broken Garage Spring | Garage Door Prices | Repair Garage Door Opener | New Garage Door Springs